Complex Implant Treatments
Most Implant treatment is very straight forward, especially to an experienced implant Surgeon.
However there are cases, where perhaps because of the anatomy, pathology, occlusion the treatment is complicated.
In these cases, it is reassuring to know that your implant surgeon is experienced and professional.
Our Implant team
We have 2 Implant surgeons, Dr David Gilmartin and Dr Jaime De Castro Torres.
The team has, between them, many years of experience in both the straight forward and the more complex implant cases including full mouth reconstructions
The team has a wide experience of the simple and complex case and carries out all the procedures including any preliminary work like Sinus lifts and other Oral Surgery Procedures.
Our very experienced Implant team places more than 200 implants a year and many 100's over many years.
Bone Grafting/Augmentation
Our implants team at The Milton Keynes Dental Implants Practice offers bone grafting/augmentation in an ultra modern and safe environment.
These are a relatively easy procedure when carried out by experience practitioners and our clinical team has a vast range of experience.
In some cases there is not enough bone to support the implant.
In these cases we add an artificial bone substrate to the area around the implant.
Basically we use artificial bone to promote the formation of real bone.
There are two main scenarios
The first is where we add bone to the area and then wait before we place the implant (a few months). The cost for this is approximately £200 per implant.
The second is where the bone is added at the same time that the implant is placed. The cost for this is approximately £100/150 per implant.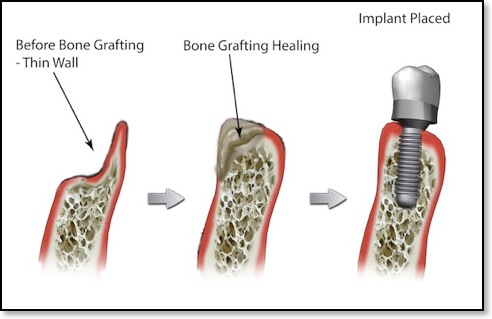 CT Xray Scans
Sometimes we need to get a CT Scan (3D X-ray) and final treatment plan and costs will depend on findings. The cost of the CT scan is £75.